An "epidemic" washing over other European countries may see the end of the EU, warned Yanis Varoufakis, Greece's former finance minister in a fiery interview/ to be shown by Al Jazeera TV on Sunday February 12.  
Seven years after European Union bailed Greece out in controversial circum...
Read Full Post »
A common front to Greeks  
Euro zone lenders and the International Monetary Fund have reached an agreement  , the Reuters wrote on Friday noon February 10, between themselves on a common stance they will present to Greece, a senior euro zone official said to Reuters News. 
A ...
Read Full Post »
Alternate Foreign Minister Giorgos Katrougalos has informed MPs from the Eastern Aegean Region that the European Commission will not approve of visa validation at island ports.
Katrougalos, who is responsible for European affairs, sent a letter referring to a visa facilitation pilot progra...
Read Full Post »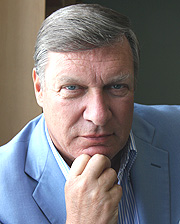 President Donald Trump's reported top choice to become the US ambassador to the European Union has told Greek TV he believes Greece would be better off with the drachma and should have left the eurozone four years ago.
I think it is interesting from the perspective of Greece, why is Greece again on the brink; it seems like a...
Read Full Post »
German Chancellor Angela Merkel urged Alexis Tsipras to cooperate with Greece's bailout auditors, leaving the prime minister to face his country's creditor institutions without political intervention by the government in Berlin, according to Bloomberg

Read Full Post »
The more the US Justice and the FBI sheds light on the giant pharmaceutical scandal by its epicenter Greece, the more the leftist government of Alexis Tsipras SYRIZA party aim to gain the profit on the country's public opinion of this governement\s determination to fight for transparency on public affairs .

Greek and US investigators aim to d...
Read Full Post »
Greek Prime Minister Alexis Tsipras sent a message to Turkey on February 3, saying that "there are no gray zones in the Aegean" answering to multiple Turkish provocations that challenge  Greece's sea borders, and first of all to his Turkish counterpart who appeared on the same morning on the Turkish ...
Read Full Post »
Turkish Prime Minister Binali Yildirim told  Turkish  reporters on Friday Feb.3  that  the sovereignty status of a total of 130 islets in the Aegean Sea is questionable and therefore subject to dispute.
Read Full Post »
A third person has died in a week in the Moria refugee camp on Greece's Lesbos island, raising alarm about the grim winter conditions in overcrowded facilities that critics have denounced as deplorable.
The dead man is believed to be about 20 years old and from Pakistan, a police official on the islan...
Read Full Post »
FROM BREXIT TO GREXIT: WILL TRUMP FORCE A COLLAPSE OF THE EUROZONE?
Trump's presidency is likely to face its first Eurozone test within a few months with an imminent default by Greece on its outstanding obligations. But unlike President Obama, Trump seems to have no plan on how to control the current financial turmoil, which could prove more severe than in 2010-11, when several European economies were deemed unreliable by the financial markets.
 ...
Read Full Post »
Environment and energy ministry urges consumers to avoid unnecessary power usage during peak hours
The environment and energy ministry on Tuesday advised consumers to avoid unnecessary use of power during the hours of peak consumption, between 18:00 and midnight, as a precautio...
Read Full Post »