| | |
| --- | --- |
| Posted by moodhacker on March 13, 2014 at 11:10 AM | |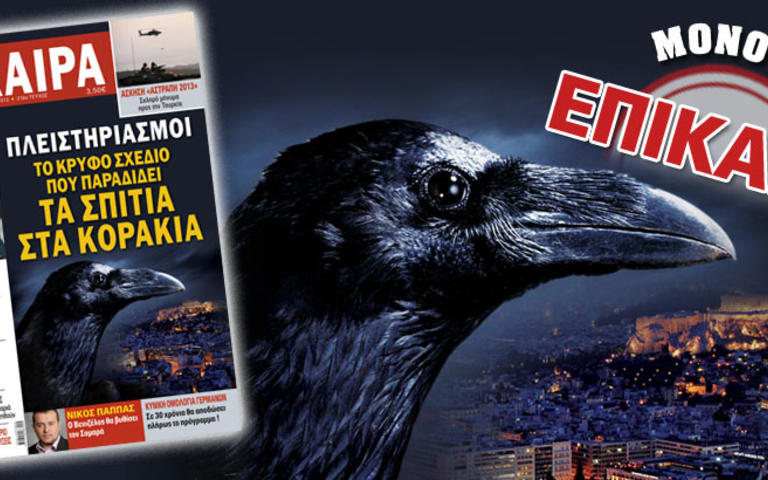 Slapping for one more time the greek mass feeling, and the world's- still human- common sense, the EU has funded extra and special training and education programs for the county's tax collectors  and isnpectors, by the greek government achieving to make attendance mandatory, unexceptionally for the whole branch. The training is aiming to help tax collectors manage better Their anger as to inhibit any resistence from the citizens's side, while arriving, f.e. in the Greeks' homes to kick them off and take their house for auction. Or, take them their jewerly, artwork, or whatever valuable could be found  left from the Greeks' mangled lives. ( That's how the new laws for the taxes are described by local news- the few ones who still dare to tell the truth, in a live nightmare that is ringing in the ears of the citizens, day and night, making reality more of a torture) 
The government last year broke its pledge to phase out austerity taxes, including a property levy initially collected on electricity bills with the threat of disconnection for those who didn't pay. The tough conditions lead to innocent citizens' deaths, while trying to survive in the cold, and has fuleled some ( but not as many) protests.
Greek tax inspectors are being offered anger management classes after the government said they would have to continue enforcing a deeply unpopular emergency tax, an Associted Press article by  D.Gatopoulos first revealed , adding that
"The seminars are funded by European Union programs and are aimed at training tax inspectors on how to manage the anger of members of the public."
"Frankly they are ridiculous," Trifonas Alexiadis, deputy leader of the National Association of Employees at State Financial Services, told the AP, empahsising that "It's not dealing with anger as much as it is dealing with reality. Too much pressure is being put on people who can't pay. And what are we supposed to tell them?"
Tax officials themselves have also had substantial pay cuts and joined a 24-hour strike by the civil servants' union on March 12
The EU, as well as the greek government are obviously fully conscious of the dipair that the "unfair" of their laws and measures provoke to the whole of the public, mass feeelings that EU and greek gov handle apathetically, staying determined to the "bring me the money" till to the very end
But what is the end? 
A German Member of the European Parliament, Giorgos Chatzimarkakis, but a Greek by origin, talked openly to the New Europe magasine of Greece being in a situation of war.
The German MEP, and now head of the Hellenic European Citizens Party, says there have been discussions from Germany about a continuation of the rescue package for Greece after the upcoming European elections. "
This is the point I want to make: I can't understand why you have to continue a policy which has been proven wrong by the IMF, by the European Parliament, by experts and you can see it in Greece—youth unemployment has reached 65 or 67%."
He adds, "But not only that, the mortality of the newborn, has gone up by 43% in the last three years. This happens only in wartime. This doesn't happen in normal peace time. That means Greece is in something like a war." And didn't doubt to go even further : 
Explaining the increase in infant mortality rates, the MEP says that there are three reasons behind these shocking statistics, firstly that mothers' health has often declined in tough times, secondly that medicines are frequently missing from stocks and finally, that the prices of drugs has increased beyond what many can afford.
"It's a very dangerous mixture that we have seen in the Weimar Republic in Germany and we all know where it led to: it led to the Third Reich. So why do the Germans who themselves have experienced this extremely explosive mix of policies in their own history, why do they impose on others the same dangerous mix? I cannot understand,"
But there are so many unexplained , not intended to be ever explained, in these greek years of national chaos production, in the citizens's minds and in the struction of the state, by laws that are everyday being voted silently, by unconstitutional methods, as more and more Members of Greek Parliament denounce . The Greek Xperiment, as the harsh austerity program, is called, has been implemented for more than 5 years by the extreme and total violation of any kind of Crisis Communication, Principle, theory or technique. For media people who have experienced this tactic, it is more than obvious that chaos and panic were on purpose by the political think tanks and the media induced . Not only noone since 2009 told Greeks what to do to avoid their family's or property's catastrophy, but they served that, communcation-wise, with upstart Apathy , versus any nugget of Empathy expression , or at least technique.....
On which result ?
Just look on these data as the "Is There Growth or Is it Just Plain Wishful Thinking? " recent Huffington Post article reveals 
Germany's domestic production, for instance, is currently running at about 3% higher than in 2007. In Greece, it has fallen by more than 27%. As for youth unemployment. In Germany, the rate of unemployment for men and women aged between 15 and 24 has actually dropped from 12% to 7.8%. Not so in Greece, where youth unemployment has risen from 22% in 2007 to a staggering 58% in 2013.
The serious mishandling of the Eurozone crisis has highlighted a dangerous lack of leadership that would inspire European citizens, which in turn has created a growing and very angry outburst of populism, the authors conclude.
Who is the Angry now? Could be also,  you!.....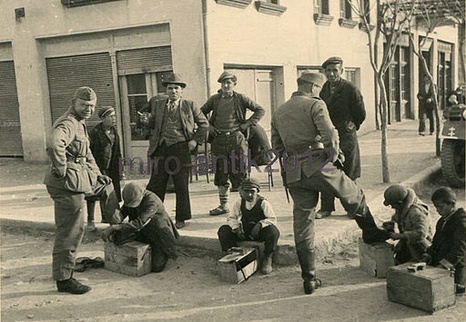 Famine and the German Boοt : German soldiers and working children in Kavala, during the great famine in Greece, 1941 Unknown photographer, Released by Wikipedia January 16, 2014
moodhacker, Greek to me !
Categories: Greece , Politics, Empathy