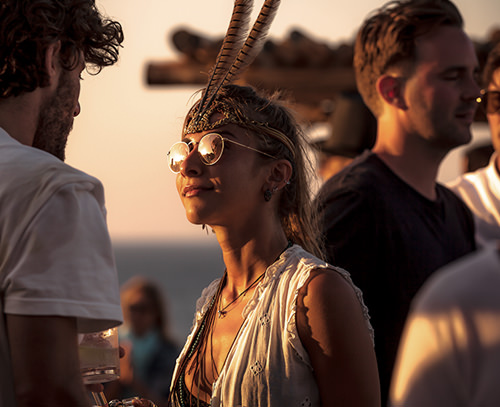 Mykonos ranked second among the 10 most suitable destinations in the world for singles, according to online men's magazine mademan.com which notes:
"Travel is rejuvenating—it can revive someone seeking respite from the mundane day-to-day. And for those of us in a perpetual period of singledom, burdened by absolutely zero obligations to another human, escaping is easy. But eloping to evade the PDA that seems to suffocate us isn't necessarily easy.
...Proposals before national monuments and couples making out in winding canals will remind you every damn second just how painfully single you are. So if you're looking to visit somewhere sick, but don't want to be bombarded by the same love that eludes you, check out one of these totally unromantic destinations."
The article describes Mykonos as follows
:"Sure, Greece is toted as a honeymooners' paradise—cobblestoned streets adorned with bougainvillea and whitewashed homes that overlook the azure sea. But it's not always so romantic. During the Spring, all corners of the city boast massive speakers for makeshift concerts that draw in drunk spring breakers who litter the streets with party debris."




 
The Greek island of Mykonos is among the top six destinations for single men, according to Rob Topper Travel writer  who specialises in vacation for single guys."Especially about Mykonos, Topper notes:

 

 

 

 

 




"With amazing beaches, famous white architecture, beautiful scenery, and sunsets to die for, Mykonos is a smashing party island. While most of Greece may be reeling from the effects of a spiraling economy, the party goes on in Mykonos From indoor-outdoor restaurants, to seaside lounges, to beach clubs and villas, this is the ultimate go-to place for anyone looking for a vacation spot."



In his article published on dumblittleman.com, he notes that "traveling as a single man is one hell of an experience" and continues:

"Each of us has their own idea of what makes a place fun to visit, but for single guys, it almost always revolves around women, alcohol, outdoor activities, boobs, booze, and breaking bones. Matters not if one is accompanied by his bachelor friends; matters not if one is a lone wolf on the prowl. So then, which are some of the best travel spots for the single man in 2016?

Here are six epic spots , the full list includes the following destinations:

1. Cebu, Philippines

2. Bangkok, Thailand

3. Rio, Brazil

4. Amsterdam, The Netherlands

5. Ibiza, Spain

6. Mykonos, Greece





Categories: Best of Greece, Travel to Greece News