The thrylic Christina Onasis yacht  is sailing since Friday June 16 in the crystal blue waters of Lesvos, Mytiline, and actually on the south beach of the island, the unique Vatera Beach
Saudi Arabian Prince Majed Abdulaziz Al-Saud sailed into the port of Mytilene in the Aegean with two yachts, "Elegant 007" and Aristotle Onassis' legendary yacht "Christina".
The yachts anchored half a mile from the beach of Vatera in south Lesvos, 
Christina O Superyacht  , was the  Aristotle Onassis' floating palace  that hosted the  tycoon's wedding party to Jackie O and dozens 
star-studded parties during the late 1950s
During her famous history she accommodated celebrities and dignitaries including Marilyn Monroe, Frank Sinatra, King Farouk of Egypt, the opera diva Maria Callas and many others. John F. Kennedy and Winston Churchill met aboard the yacht, in Ari's Bar and two of the century's most celebrated weddings were held in the Christina's decks: Prince Rainier to Grace Kelly and Jacqueline Kennedy Onassis. 
In 1956 Princess Grace and Prince Rainier held their wedding reception on the yacht
After Onassis's death in 1975, his daughter Christina donated the yacht to the Greek Government. In 1998, the yacht was bought by John Paul Papanicolaou, Onassis family friend and leader of the shipping industry, who started a new Christina restoration that took three years. Today this yacht sails undre the name Christina O.
Built in 1943, the Christina O was bought by shipping tycoon Aristotle Onassis $34,000 in 1954 , who invested more than $ 4 million to restore the ship and named her after his daughter. Christina was transformed in the biggest and most luxurious yachts in the world., and its price today exceeds the  $25 MILLION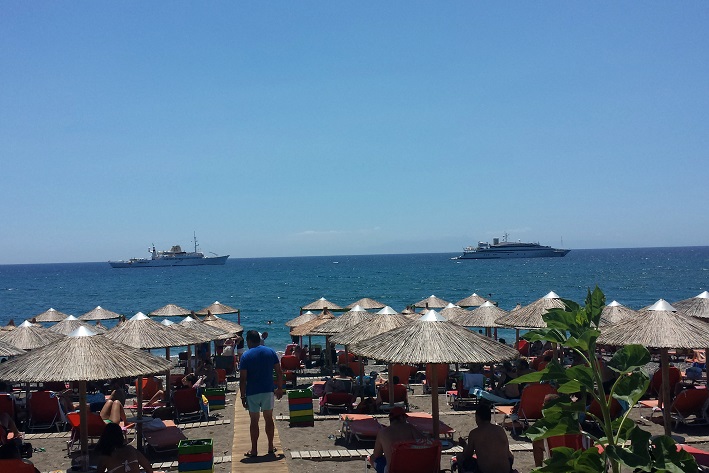 The initial destination was to Bodrum (Halicarnassus) of Turkey, according to Greek media, but it was the Friday's coup in Turkey that made the captains of the yacht to ask for change of route, and the Prince to change his mind so the yachts headed to the Aegean island of Lesvos .
The yachts are seen in a distance less than a mile from the beach, local press report, and the next stop is rumored to be Chios
Visit our Vatera Beach Special Page 
http://www.greek2m.org/vatera-beach" />

Categories: Best of Greece, Travel to Greece News , Celebrities in Greece