| | |
| --- | --- |
| Posted by moodhacker on February 17, 2017 at 5:30 AM | |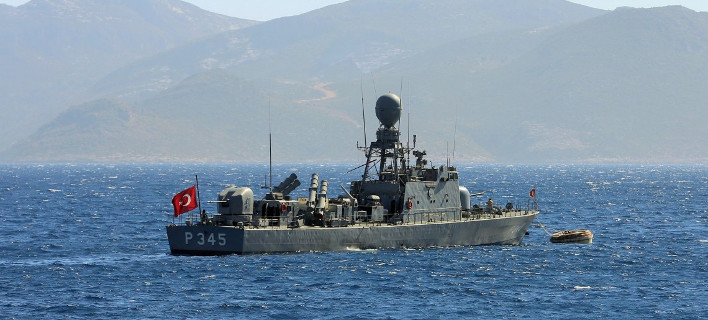 Greece once again faced the Turkish Navy provocations on Aegean waters on early Friday hours when the Turkish  gunboat  "Kusadasi" violated Greek waters  and fired live ammunition shots while  carrying  out a gunnery exercise two miles east of Greek islet Farmakonisi in Eastern Aegean Sea .
The Turkish Navy warship left  after the appearance of a Greek Navy gunboat.
Kammenos  at Munich Defense Conference 
Greek Defense Mnister Panos Kammenos , who is attending the 53 Defense Meeting in Munich from today on, is  aiming to seriously se t the issue of the augmenting incidents of Turkish violations in Greek waters and Greek airspace lately, his office in Athens Defense Ministry announced . Kammenos said in a statement after the violation incident on Friday morning  "All necessary steps have been taken."
 Earlier Turkish provocations in the area 
Two days ago, another violation, this time of the Greek airspace occurred, when a pair of F-16 fighter jets entered the Greek FIR and conducted flights over Farmakonisi at a height of 26,000 feet.
According to ArmyNow.net, Farmakonisi is being often targeted by Turkey and therefore Greek Armed Forces have increased preparedness.
Kusadasi gunshots 
On Friday February 17th,TCG Kusandasi patrol boat of the Turkish Navy, entered the Greek territorial waters at 7 am
Around 7:30 am. the Turkish patrol boat "Kusadasi" started fire with real ammunition near the Greek island
The fire was shot at an easterly direction, away from Farmakonisi. 
Prior to the exercise, the Turkish general staff had issued a warning (NAVTEX) for sailors and ships.
Officers at the National Operations Center of the Greek Armed Forces were closely monitoring the Turkish vessel
Greek gunboat "Nikiforos" rushed to the area and sent out the message that the Turkish warship was violating Greek territorial waters and didn't have permission to carry out the exercise with real shots.
The Turkish ship sailed away in a northern direction after completing the exercise and left around 09.00  
The Turkish Provocations trigger 
 Recently, Turkish fighter jets have adopted a new tactic and conduct "virtual bombing" of Greek soil.
Turkey has increased its provocations towards Greece challenging the sovereignty of the Greek islands and islets in the eastern Ageean Sea, after the  " trigger" of the Greek Supreme Court's decision to  reject Ankara's request to extradite eight Turkish soldiers who fled to Greece and asked asylum after the failed coup of July last year, and for whom Turkey says they attemepted to kill by their helocopter President Tayip Erdogan .
The Munich Security Conference 
The Munich Security Conference is the annual international forum where current and future security challenges are discussed with the participation of numerous high-level political leaders, politicians  and international security experts. From Turkish side, Turkish Foreign Minister Mevlüt Çavuşoğlu will attend and deliver a speech, as was announced on Feb.15 by the Turkish Foreign Ministry, and also  Turkish Prime Minister Binali Yıldırım who is also expected to briefly attend the conference and hold a bilateral meeting with U.S. Vice President Mike Pence.
At this year's Munich Conference the idea of closer European defense cooperation  is expected to be seriously and extensively discussed . The closer European Defence has emerged as a way to re-energize the EU, politcal analysts note . The bloc has proposed various initiatives, from setting up an operational headquarters in Brussels to implementing a European defense fund and kick-starting defense-related research, POLITICO wrote on February 17th. 

Categories: Greece and Neighbors , Greece in Europe, Your Safety in Greece