| | |
| --- | --- |
| Posted by moodhacker on August 7, 2017 at 12:10 AM | |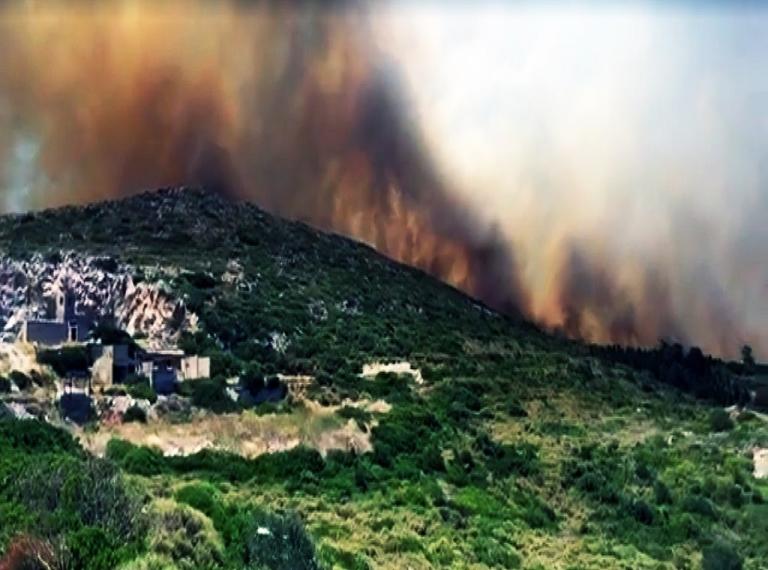 A wildfire in the southern Greek island of Kythira, southwest of Athens, has led to the evacuation of a village and power cuts.
The fire first erupted Friday morning and had been contained before it resumed Saturday as the wind picked up.
No homes have been reported damaged so far. A fire service spokeswoman said there were no estimates yet of how much land had burned..
Wildfires are common during Greece's dry summer season and several have erupted as Greece goes through its second major heatwave of the year. 
Greece: Man charged with starting 16 fires near Athens
Greek authorities say a 24-year-old man has been arrested and charged with starting 16 fires over the past five months.
A Fire Service announcement says the man is accused of deliberately setting fire to forests, farmland and empty plots in areas east and northeast of the capital Athens from March 14 to Aug. 1 of this year.
He is scheduled to appear before a misdemeanor court magistrate on Sunday.
South of Athens, Kalyvia , Saronida, Anavysos Attica
Since the 31st of Juky, and lasting three days a wildfire burned Kalyvia area soutrh of Athens, and reached homes and beach enterprises at the Saronida bay area ,  three firefighters had been hospitalised with burns and local authorities issued an evacuation order for residents near a seaside town south of Athens as a wildfire fuelled by high winds threatened homes.
About 100 people were told to evacuate near Kalyvia, 40 kilometres of Athens, the local mayor's office said. The fire burned two cars and damaged a fire truck, they said. About 70 firefighters and volunteers were involved along with two water-dropping helicopters.
Winds up to 60km/h were hampering the firefighting effort, while temperatures in the area reached 35degC. The blaze broke out in the Kalyvia , and quickly spread through tinder-dry vegetation due to strong winds.
Two more, in Spetses island and Pylos, Peloponese
Just as fire crews started to get a large blaze under control near the popular seaside towns of Saronida and Anavysos east of the Greek capital two more fires broke out in different parts of the country, on August 4th
Fifteen firemen, six trucks and a helicopter were dispatched to Aghii Anargyri on the Argosaronic holiday island of Spetses to put out a blaze in a craggy tract of pine forest with some scattered holiday homes. The fire scared residents and visitors, seeming to come ckose to homes and also the beach   
Meanwhile, another blaze, reported as being quite extensive, was testing firefighters in the area of Soulinari near Pylos in the southwest Peloponnese.
July 19th , 19 fires across the country , among them Ierapetra Crete, and Ilia Peloponese
Eight firefighters Wednesday were battling a fire that broke out in the area of Ierapetra on Crete, with the assistance of three vehicles and several dozen volunteers.
Meanwhile in the western Peloponnese, firefighters managed to douse a wildfire in the Smila area of Ilia.
The Hellenic Fire Service said Wednesday that its teams were fighting a total of 19 fires in various parts of the country.
Mid of july, Korinth and Inofyta Arthens  five peoiple injured 
At least five people were injured from fires that erupted in a forest area near Corinth and a plastics factory, further north, near the town of Inofita.on the 13trh of July  
At the forest fire near Zevgolatios of Corinth, three firefighters were injured, as the flames engulfed a house which was almost totally destroyed.
There are fears that other buildings in this remote area maybe in danger.
According to some reports, the injuries occurred when the fire engine overturned into a ravine.
The injured were transferred to the Corinth General Hospital.
Earlier, two men suffered burns from a fire that broke out at a plastics factory in Inofyta.
The two men had already exited the factory building when the fire brigade arrived.
The fire at the plastics factory located at the 39th kilometer of the Athens-Lamia national highway in Inofyta began on Thursday afternoon.
A force of 30 fire men and 10 fire engines was sent to put out the blaze and declared it fully under control by Thursday evening.
July 12th, Zakynthos ecosystem threatened 
A fire that started in the night had razed hundreds of hectares of forestland in the mountains on the northern end of the Ionian island of Zakynthos. 
Firefighters battled the blaze in tinder-dry conditions, against high temperatures and strong winds, all night and were finally able to bring it under control on Wednesday morning, though not before it wreaked significant damage to a part of the island that is an important ecosystem and also very popular with tourists.
Initial estimates put the damaged forestland at more than 300 hectares, but there were no reports of injuries or destruction of property by Wednesday morning.
However, the thick smoke that covered many parts of the island caused dozens of residents and visitors to seek medical assistance after experiencing breathing difficulties.
Categories: Travel to Greece News , Your Safety in Greece